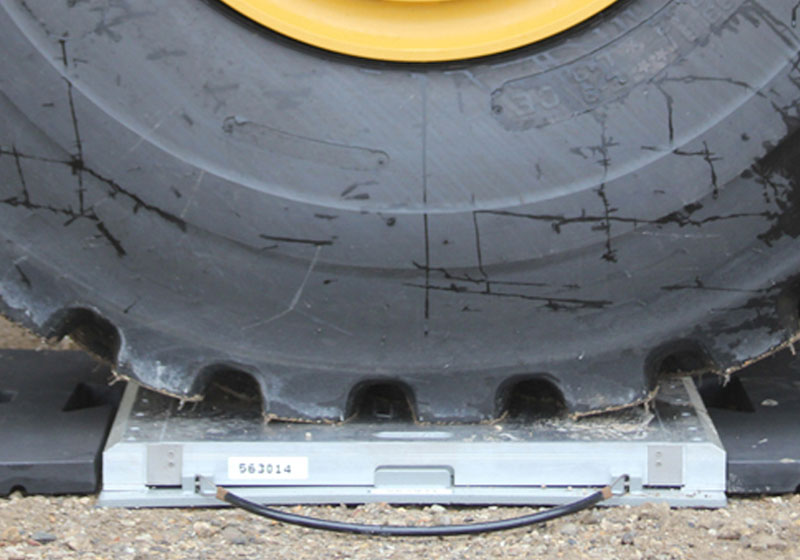 19 Jul

4 Advancements in Portable Truck Scales That Drive Efficiency & Throughput

With increased demand in the agricultural industry comes the need for continual advancements and technology innovation in the farming equipment. When it comes to harvest management and valuating crop loads, farmers and agricultural producers can now be better equipped to efficiently weigh crops using systems like portable truck scales.

Portable truck scales speak volumes for the advancements in the agricultural industry, mostly with respect to the incredible features and advancements of these scales that help to optimize efficiency and throughput. To shed light on why portable truck scales are so ideal for farmers, below we discuss four momentous advancements that make these systems a sound weighing solution.
Evolving Design Options

There's a lot of overlap in what defines a portable truck scales (versus similar systems like wheel weighers and axle scales.) In short, there are two primary types of portable truck scales, including the portable axle scales and portable wheel weighers (or weighing pads.)
Each offers unique benefits for the farmer who integrates one or both into their harvest weighing processes. Axle scales allows a producer to determine weigh inputs in very rugged environments that demand a heavy-duty scale, while wheel weighers (while still rugged in design) assists in calculating and managing load weights with greater versatility. Both types are very similar in their functionality, however there's a trade-off in set-up time (portable wheel weighers being a bit more efficient to move from one weighing site to another) as well as durability and resilience (axle scales offering a bit more strength for large vehicles.)
Advanced Portability for Greater Versatility

The decision to purchase a portable truck scale not only increases versatility, but saves farmers money in the long run. Static scales are built-in to the landscape and are expensive to maintain. For the farmer, in particular, portable scales are more affordable than static scales, and very easy to use. In fact, they occupy very little space but are still strong enough to weigh entire an truck load that weighs in at multiple tons.
In-Motion Capabilities Accelerates Throughput
Trucks are on the highway with one purpose in mind – to reach their destination as quickly as possible. There is quite an inconvenience to stopping on a static scale to weigh a truck and its load. The introduction of weigh-in-motion truck scales has modernized the trucking industry by creating a way to capture data while a truck is moving using sensors and dynamic measurement system. This in-motion weighing technology is no different for the portable truck scales used by farmers.
With weigh-in-motion portable truck scales, the data captured can be transmitted wirelessly to the cloud, and is touted for being just as accurate than static scales. It also means that hundreds of trucks can be measured – each in a matter of seconds – in one day. For high volume farmers, weigh-in-motion truck scale advancements have drastically accelerated the throughput for harvest management.
Accuracy Stemming from Proven Engineering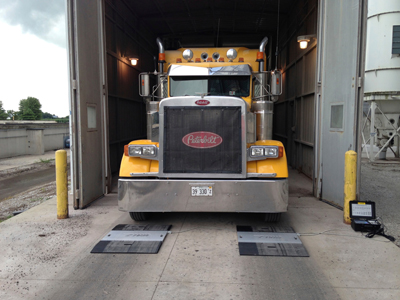 Truck axle scales that are designed to be portable characteristically are going to be more lightweight, durable and accurate than static scales. It may seem contrary to logic, but combined with in-motion technology static scales are quickly becoming a thing of the past.
Portable truck scales even offer measurements for up to eight wheels, improving the size and type of trucks it can serve. Made of aluminum, transporting or relocating these scales are a breeze due to the lightweight nature of the metal. Additionally, they are durable enough to withstand harsh weather and extreme temperatures.
More importantly, the portability does not automatically mean less accuracy. Quite the opposite. By measuring all wheels at the same time, weigh-ins are easier than ever – especially considering some pads come with automated kiosk printers that enable users to print measurement tickets on-site.
Fortunately, more accurate measurements means more accurate profits. Farmers who depend on static scales should consider the benefits of portable truck scales before their competitors, literally, move right by them. For more information about portable trucks scales, contact AgWeigh.com or visit the parent company of AgWeigh, WalzScale.com.