3 AgWeigh Truck Scales Advantageous for Farmers
Tuesday, September 22, 2015
3 AgWeigh Truck Scales Advantageous for Farmers
As leading supplier of truck scales and agricultural weighing systems for farmers, AgWeigh offers a number of different truck scales for all levels of ag producers. AgWeigh is dedicated to providing cost-effective weighing solutions to help advance the harvest management process of agriculture producers. In doing so, the company has earned a reputation in the industry for its impressive display of truck scales for sale.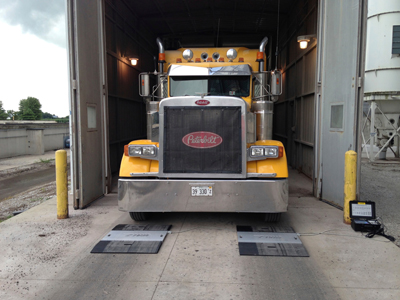 For farmers in need of a more efficient and streamlined weighing operation, AgWeigh offers several types of trucks weigh scales to fit the bill. Whether for grain dump operations or stockpile management, there are a wide variety of options for specific applications. Below we go into detail about three of the more advanced truck scales from AgWeigh and why each system makes for the ideal companion for farmers and ag producers.
In-Motion Portable Axle Scales
The AXW-IM models of in-motion axle scales offer an affordable truck scale system that is fully portable and easy to take set-up and take-down in the matter of minutes. As a great solution for ag producers with many farms and fields, this portable truck scale system makes for a versatile weighing solution just about anywhere.
The lightweight aluminum design and carry case allows for convenient and fully portable operation. The in-motion functionality of the system allows for the weighing of your harvest vehicles without stopping. Simply drive over the scales and the system will total each axle and provide the total vehicle weight.
The AXW-IM portable axle scales come available with integrated printers in the scale readout weighing terminal. This allows for weight tickets to be printed for each vehicle. The weighing terminal displays are also battery operated allowing for portable operation.
Grain Dump Truck Scales
What separates AgWeigh's grain dump truck scales from other suppliers is that these systems have been designed by farmers for farmers. In fact, the design of the AgWeigh grain dump truck scales are the result of almost 50 years serving the agriculture market.
Available in 10', 11', 12', & 14' wide scale decks, these NTEP-approved, modular-engineered grain dump truck scales use galvanized suspension components and heavy duty steel deck plating to withstand years of use in the harshest of conditions. The modular design of these truck scales provides a great number of benefits for producers, such as: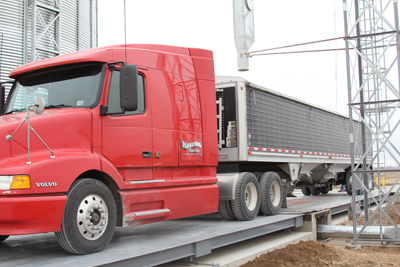 Simplifies the installation process
Minimizes freight expenses
No crane required to set the truck scale
Engineered for easy access for maintenance
Additionally, the cutting-edge modular design of our farm scales allows ag producers to install their scale system in-house with ease. Farmers are able to install the AgWeigh scale modules with a lift truck or tractor.
On-board Weighing Systems
Integrated on the actual vehicle or piece of equipment (i.e. grain cart,) the on-board weighing systems from AgWeigh leverage German-engineered Pfreundt on-board weighing technology. Unlike external truck scales, on-board weighing systems provide the ultimate in convenience and efficiency for specialized weighing needs.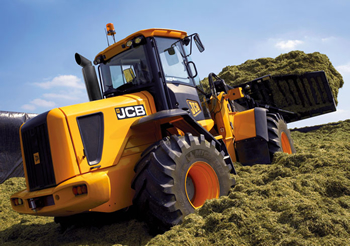 Installable on vehicles ranging from semi-trucks and tractor trailers to skid steers and backhoe loaders, AgWeigh's on-board weighing systems come with many possible features and benefits for farmers. For instance, farmers who use commonly use a wheel loader to transport yields can take realize significant advantages with an on-board weigh system installed on the farm's loader(s).
Learn more about the various applications of on-board weighing systems by visiting WalzScale.com, parent company of AgWeigh and leading provider of truck scales and advanced weighing systems.