News items tagged with "weigbridges"
Oct 21, 2015
|
Weighbridge Scales Streamline Harvest Weighing For Ag Producers
If you are a large scale farmer, knowing the total weight of crop during the harvest season is critical for profitability. A reliable truck scales helps you assess your productivity, calculate your crop load weights, valuate your harvest, and overall determine the success of your ag business.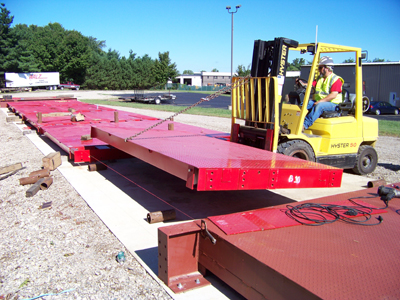 However, weighing huge loads of crop is not easy for high volume farmers, and having the right truck scales system is vital to thrive. The solution for many farmers is to utilize the heavy duty weighbridge scales from Walz. Officially known as, Walz Scale, a reputable manufacturer of truck scales in North America is one of the leading players in the industry for weighbridge systems.
What to Expect From Weighbridge Truck Scales from Walz
The way Walz has designed its weighbridge truck scales focuses on many variables, but among the most vital for sustainably use are durability, accuracy, and consistency. Some of the features to expect from the weighbridge include:
Extreme Heavy Duty Weighbridge Scales – A lot of large scale farmers produce massive harvests that can weigh thousands of tons. Conventional weighbridges may not be strong enough to deal with this massive harvest. If you don't want to take any risks, you can consider the super heavy duty weighbridge truck scales offered by Walz. No matter how big your harvest is, the weighbridge can handle it with ease.
Above Ground & Open Bottom Designs – The option of above ground or open bottom weighbridge designs gives farmers flexibility with respect to their weighing needs and location. The open bottom design is a revolutionary technology designed to extend the longevity of weighbridges. Walz has simply perfected this technology and delivers strong weighbridges that last for many years with minimal wear and tear..
Tension Suspension Mounting System – Accuracy is everything when it comes to weighbridges and for farmers who are commercially involved in large scale agriculture, having a weighbridge that delivers perfect accuracy couldn't be more important. The Tension suspension Mounting System limits the movement of the bridge for superior accuracy.
Outstanding Performance – The weighbridges from Walz can work under any virtually any conditions. This performance is needed especially when there is a huge load of farm produce to be weighed on a day to day basis. It doesn't matter how long you need to keep weighing or how heavy the load is, the scales are perfectly suited for these conditions.
Advantages of Walz Weighbridge Scales for Farmers
If you are planning to invest money oin a weighbridge, then it makes sense to know what you get in return. Here are some of the advantages of the Walz weighbridges:

Accuracy – The technology used to design Walz weighbridge scales offers perfect accuracy. This helps you to know the exact size of your harvest in any given season.
Extreme Durability – The harvest season is very busy and as a farmer, you definitely want a weighbridge that can handle an intense day of weighing loads of farm produce. The Walz weighbridge scales are so durable that they can perform at optimum capacity even if the load is heavier than normal.
Longevity – Weighbridges are expensive and as such, it would really be a waste of money to replace your scale each and every harvesting season. The Walz weighbridge scales however are designed to last long. You can utilize them for years without much where an tear, as they are designed using durable stainless steel construction.

Finding the right weighbridge truck scales for farming and agriculture is never easy but even then, the heavy duty scales offered by Walz are simply exceptional. To learn more, visit WalzScale.com.
Read More