New Scanning Solutions Help Farmers Increase Productivity During Harvest
Thursday, June 18, 2015
New Scanning Solutions Help Farmers Increase Productivity During Harvest
Farming is one of the most difficult industries to become involved in because of the strenuous, time consuming work as well as the variability of crops. Factors like the weather, soil, and the agricultural market for food can greatly vary the production value of high volume farmers, which directly impact price per pound and overall profitability.
New scanning technology, patented and sold by Walz Scale, is making farmers' lives easier and more efficient, helping to mitigate the latter variables. You might asking yourself, new scanning technology for farming? These are unprecedented harvest management systems that are described in greater detail below.

Advancing The Harvest Management Process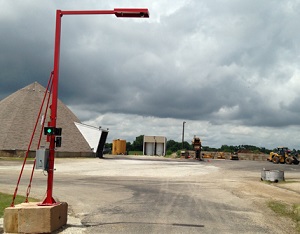 Walz Scale (which is the parent company of AgWeigh.com) is spearheading the development of industrial 3D volume scanners that can measure the volume in harvest so that farmers don't have to spend unnecessary time estimating these values with standard weighing systems. This is a process commonly performed in the harvest season, when farmers are already working to secure the crops in a timely fashion. These scanners, with their high-tech features, will give farmers accurate volumetric readings which are then calculated into weight (with basic crop inputs to make the calculation.)
Walz Scale uses a 3D scanner unit that is positioned on a stand that will ultimately hang over trucks that pass under the system. The truck drives under the scanner commonly at spends below 3.5 miles per hour (speed scanning is another available profit). The scanner then uses lasers and complex computer algorithms to paint a 3D picture of the truck contents.
The scanner delivers the 3D images into sections that can be seen on a screen (informing farmers of adequate load distribution,) as well as displays accurate volume and weight metrics. Once the load scanner is set-up and full installed (which typically takes a couple hours of less) the process can be complete in a matter of seconds. Farmers can see then use this volume and weight information to understand exactly how much harvest is being extracted, and what the estimated value of the harvest is for profitability.
Replacing the Need for Expensive Truck Scales
The 3D scanners are efficiently replaced the large, expensive, and heavy-duty truck scales that farmers have been using for several decades. These scales only measured the gross weight of the truck, and all other calculations had to be conducted by hand. While this worked for farmers, the scales did not afford the same full picture that the 3D scanner literally gives at the touch of a button.

Walz Scales has offered several special features for their scanners that make them even more convenient and easy to use. The scanners can be operated and monitored from an outside kiosk, a tablet, laptop, or mobile device, enabling some farmers to handle other tasks while in operation. The scanner sends the images and the information to this computing station so that the farmer can view the truck stores and quickly estimates the profit from that truck.
The scanner can be delivered as either portable or non portable. Portable scanners have the base of a trailer that can easily be moved. Load scanners can also be used with conveyor belts to measure real-time production rates of products before they ever go out for transportation.
Farming is hard, honorable work that requires all of a person's body and mind. The Walz Scale 3D load scanner offers a better way for farmers to manage their crop production and estimate profit with its easy to use interface, real-time updates, and easy to understand presentation of information. Get rid of your old scales today and invest in the Walz Load Scanner, and be apart of the future.