On-board Scales Help Farmers Optimize Yield Management
Tuesday, May 5, 2015
On-board Scales Help Farmers Optimize Yield Management
Modern technology has helped to build systems that offer maximum efficiency and accuracy. In the agricultural sector, technology has played a very important role in making the life of farmers that much easier.

With on-board scales, it is easier for farmers to weigh their crops with maximum efficiency and accuracy. These on-board weigh scales are also very convenient in that they help farmers to save time from having to visit a designated, external weighing station, which is common in most harvest management operations.
On-board scales are designed to be integrated on to different types of agricultural equipment and trucks. They can also be installed on skid steers, haul trucks, grain carts, as well as loaders, conveyor belts, and forklifts. For farmers, on-board scales offer many options.
Why On-Board Scales Are a Win for Ag Producers
On-board scales are more efficient than weighbridges and axle scales as well as wheel weigher units. On-board scales are designed to track and weigh loads when they are being transported. This helps to reduce time to measure the payload. This is one of the reasons why these scales have become so popular.
The many different on-board scales are very useful in farming and agricultural applications and more particularly at the time of harvesting. These scales are also very dependable and they will do a good job of accurately tracking production data and they will also provide accurate weights every time they are used.
Farmers use these scales because not only do they increase their efficiency but also because the measurements given by the scales are very precise and accurate. Thanks to an easy User Interface, these scales allow farmers to easily weigh their produce and they can also use this feature to fine-tune their needs. Best of all, these scales by providing accurate measurements help the farmer boost their agricultural output.
Software-Supported Intelligence
On-board scales also help farmers maximize the value of their crop yield during the harvest season. Farmers want to get the most out of every inch of their farm. They can do so through effective crop management software, like that of Yield Pro. There are a number of variables involved with crop management such as moisture control as well as factoring moisture levels to help determine exact crop value.
Yield Pro from Ag Weigh is a very advanced harvest management software. It helps every farmer and agricultural producer organize themselves better. Thanks to this software, farmers and agricultural producers can assess as well as streamline the way that they manage yield weigh data.
This software has especially been designed for agricultural producers. Farmers who use this software will be able to maximize their productivity and also the overall efficiency when analyzing yield information. Yield Pro offers the following benefits for farmers and agricultural producers: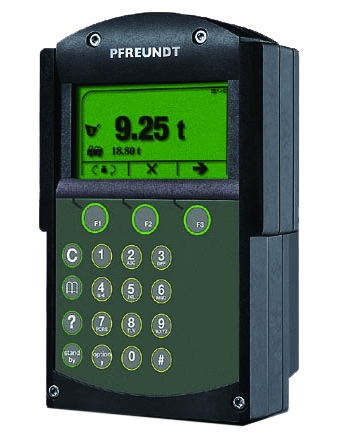 Provides more accurate and precise estimates of moisture levels of select harvests per bin. Thanks to this software, miscalculating is reduced and this leads to better estimates of crop prices.
Helps in monitoring and tracking harvest information conveniently from a mobile device.
Yield Pro is easy to integrate with on-board scales and weighing systems.
Allow farmers to segment as well as track information for every farm, every field as well as every bin. This helps producers find out and troubleshoot problems on the farm.
The bottom line is that on-board scale systems and software like Ag Weigh's Yield Pro are igniting as well as optimizing production quality for farmers. Only those farmers who leverage the power of Yield Pro will succeed in streamlining the gathering as well as management of yield information.
On-board scales for haul trucks are useful because they can be used while performing regular tasks like transportation of produce and mining materials. Grain carts on-board scales are designed to work around grain farms. Loader scales provide precise results in tough conditions and they also do not require much maintenance.
Conveyor belts scales are designed for rugged industries like aggregates and bulk handling. These scales help you to monitor as well as improve your processes and in this way help to make your operations more profitable.