Load Volume Scanner Offers Alternative to Conventional Ag Weighing Systems
Saturday, November 21, 2015
Load Volume Scanner Offers Alternative to Conventional Ag Weighing Systems
The new load volume scanner system from Walz Scale offers farmers volumetric load scanning solution that's not only accurate in measuring load volume and weight metrics, but also fast and efficient compared to most conventional agricultural weighing systems.
The load volume scanner system is simple to install and you can easily operate with minimal training. If you're seeking the best-in-class technology that fully addresses your harvest weighing needs and boosts your productivity and profits, look no further than the volumetric load scanner from Walz Scale.

Why The Load Scanner Works Over Truck Scales?
As one of the best alternative to cumbersome weighing systems and truck scales, the load volume scanner technology offers advanced capabilities to quickly calculate your crop's volume metrics into weight metrics in just seconds. Let's have a close look at how a truck volume scanner system can improve your harvest management processes to the next level.

Optimize Data Analysis, Operational Efficiency, and Throughput
Developed mainly as a simple and affordable alternative to those heavy-duty and cumbersome to operate truck scales, the volumetric load scanner offers you a compact cost effective solution that can calculate load volumes in a efficient and accurate way.
With a complete truck volumetric load scanner, you can view high definition 3D images of your truck loads. But that's not all. This system can also be integrated with software platform. It is also compatible on all computer as well as mobile devices, and operators can leverage its tools and capabilities to track, monitor and manage load scan data.
Accurate Calculations
In operations where cubic volume of target load is the required metric, the direct measurement generated by load volume scanner delivers a reliable and accurate measurement that you can easily use. Unlike others payload valuable and management techniques, this latest system can reduce variable and uncertainties in compaction, moisture content and load variation. All in all, the volumetric load scanner system offers accurate volume calculations and also eliminates various old school methodologies such as counting hundreds of truck loads or simply guessing.

Affordable Harvest Management System
Volumetric load scanner also offers you an affordable payload management solution compared to various other systems, such as heavy-duty weighbridges and portable truck scales. In some cases, installing a volumetric scanner can cost less than half the cost of popular weighbridges, all while making your job site more simplistic, organized and efficient. The best thing about volumetric load scanner is that it requires less maintenance as compared to various truck scale alternatives, thereby minimizing costly repair and recalibration costs.
Optimized Efficiency & Throughput
The load volume scanner can be easily installed on your site and can start operating on the same day. Once the system is in operation, it can make calculations within seconds, and all data can be accessed remotely in real-time using various advanced software solutions. Easily accessible from various mobile devices and computers, operators can easily manage its processes and can assess payload data through a fully intuitive software platform. If optimization and automation of payload management processes is your primary object, then look no further than a volumetric load scanning system.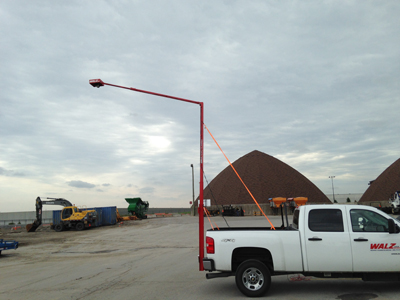 Dependable & Reliable
The load volume scanner performs reliably and dependably in some of the most extreme conditions and remote environments. Depending upon its use, it can continue working for years without requiring any servicing or calibration. The operation of volumetric load scanner remains highly consistent over time and is also engineered to reduce operator error. Therefore, load volume scanner can endure some of the harshest conditions, such as excavation operations, high-volume mining sites, and more.
Flexible & Durable
The load volume scanner is built to the highest standard and offers reliable use for years in construction, mining and other rugged production operations. You can install it in any dedicated local scanning site, a haul road, or access driving. Although load volume scanner is hard mounted, it can easily be reinstalled as per requirements with many additional options.
Learn more about the load volume scanner by visiting WalzScale.com.